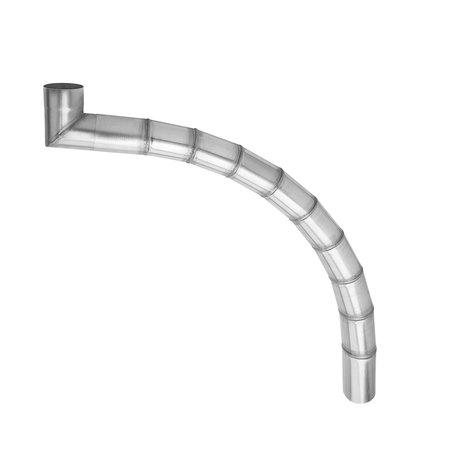 Articulated elbow Ø 100 soldered
Nominal size
400-495, 500-595, 600-695, 700-795, 800-895, 900-995, 1000-1095, 1100-1195, 1200-1295, 1300-1395, 1400-1495, 1500-1595, 1600-1695
Materials

Not available in all sizes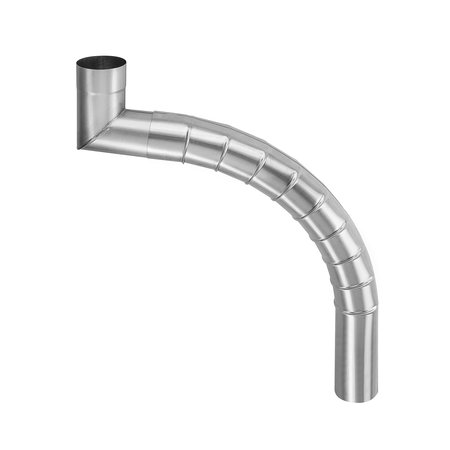 Articulated elbow Ø 100 pressed
Nominal size
400-495, 500-595, 600-695, 700-795, 800-895, 900-995, 1000-1095, 1100-1195, 1200-1295, 1300-1395, 1400-1495, 1500-1595, 1600-1695
Materials

Not available in all sizes
the GRÖMO articulated elbow – This is how beautiful a connection can be.
The most beautiful link in the chain.
In roof drainage, an articulated elbow serves to skilfully connect the pipe diverters due to roof overhangs between plug-in gutter outlet and downpipe. These are soldered or pressed in segments, and guarantee that the water will drain away quickly and safely. At the same time, they are used as ornamental pieces in renovating or on new structures because of their aesthetic appearance.
An articulated elbow always consists of two components. The segmented elbow and an angle piece, which can be pushed up to 100 mm into the elbow. This allows the elbow to be adjusted quickly and without complication, and in turn, easy installation of the downpipe connections. The segmented elbow overhang is measured from the middle of the nozzle to the middle of the downpipe. It's available from GRÖMO with an overhang of 300-1695 mm. For the diameter of the elbow, there are four options: 76, 80, 87, and 120 mm.

The curved accent.
Whether copper of zinc - GRÖMO segmented pipe elbows are an asset for various architectural styles, and deliberately emphasize a harmonious overall concept. They are available in a tapered shape as pressed or soldered versions.