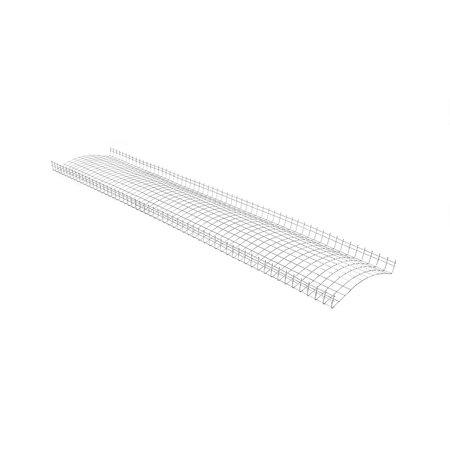 Leaf guard half round
Nominal size
280, 333
Materials

Not available in all sizes
the GRÖMO leaf grille – Keeps leaves out of the gutter.
No water damage ever again.
When the leaves fall off the trees in fall and make their way from the roof into the roof gutter, you have to keep an eye on the roof gutter and drainpipe. If you don't, the downpipe can become clogged, rainwater gets backed up and finally looks for another way to get to the ground from the roof. This often means running down the side of the house. And that unfortunately leads not only to unattractive stains on the house facade, but can also cause damage to the structure. The good thing is, this can be avoided. GRÖMO, the manufacturer for intelligent roof drainage solutions, has the right answer up their sleeve with the stainless steel leaf grille. It offers long-lasting protection from leaf damage and keeps the rain gutter and drainpipe clean, guaranteed.
Easy to install.
To install the leaf grille, just cut the rust-free, stainless steel filigree wire grille to the desired length and insert in the rain gutter. The only thing you need is a wire cutter or side cutter. Fastening is guaranteed by the spring in the gutter hook or by the stainless steel mounting clips for the gutter bead from the GRÖMO pigeon guard program, in the case of nose-spring gutter hooks. If the leaf grille is correctly attached, it will catch all leaves reliably. The rest, removing the leaves from the grille, is done by the wind. Even in heavy leaf fall, the leaf guard does what it promises - and with a high level of water permeability at all times of the year. So the leaf grille also can't freeze over in the winter.
Stainless steel for the best combinability.
Totally rust-free and UV-resistant, the GRÖMO leaf grille has a long lifespan. Made entirely from 1.4301 stainless steel, it has a low weight and can be combined with other metals without a problem. It is available for half round rain gutters cut to 280 and 333 mm in lengths of two meters, and guarantees high dependability when it comes to protection against leaves and damage. Due to the simple attachment of the high-quality materials and the first-class workmanship, no maintenance is necessary for installed grilles.