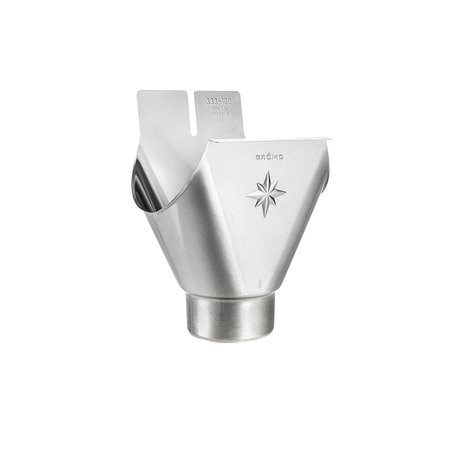 Plug-in gutter outlet oval - half round gutter
Nominal size
200/60, 250/60, 250/76, 250/80, 280/76, 280/80, 280/87, 280/100, 333/76, 333/80, 333/87, 333/100, 333/120, 400/100, 400/120, 400/150, 500/120, 500/150
Materials

Not available in all sizes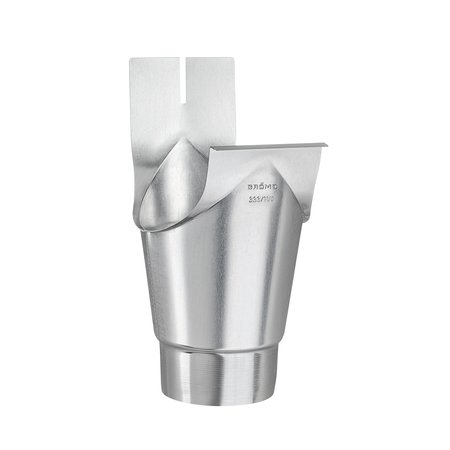 Plug-in gutter outlet - round - half round gutter
Nominal size
280/80, 333/100
Materials

Not available in all sizes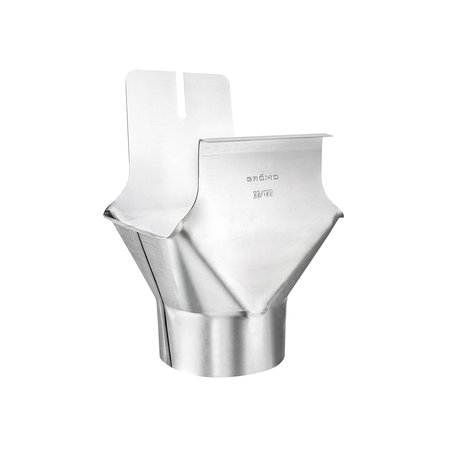 Plug-in gutter outlet - box gutter - round pipe
Nominal size
200/60, 250/76, 250/80, 280/80, 280/87, 333/100, 400/120, 500/150
Materials

Not available in all sizes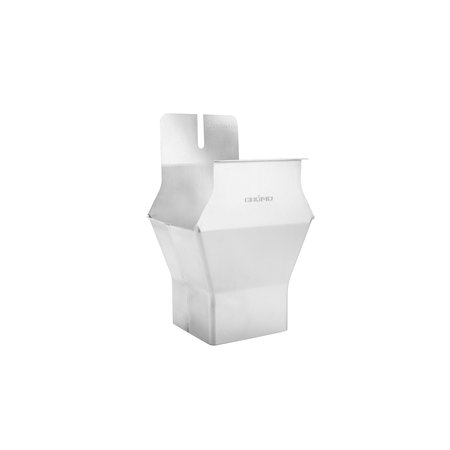 Plug-in gutter outlet - box gutter - box pipe
Nominal size
250/80x80, 333/80x80, 333/100x100
Materials

Not available in all sizes
the plug-in gutter outlet from GRÖMO – Out of the gutter outlet.
The spring matters.
Any elbow can be put on the plug-in gutter outlet from GRÖMO, feather-light. The new spring clip technology makes it possible. It offsets tolerances in the diameter of the elbow and keeps it in place on the gutter outlet. No wiring or riveting necessary. The elbow is simply turned in the desired direction and stops reliably in any position. And during emergency drainage as well as final installation, which is done by simply changing sides. The spring clip prevents pipes and elbows from slipping off on a long-term basis. The GRÖMO plug-in gutter outlet always outperforms drainage capacity according to DIN EN 12056-3, and is guaranteed to fit all common drainpipe elbows.
It's that easy to install the plug-in gutter outlet.
The plug-in gutter outlet is hooked into the already mounted gutter. The two lugs are turned in as far as they will go. With a pencil, mark the center of the plug-in gutter outlet in the gutter. Insert the template into the base of the gutter (the channel) on the marked center line. Using the nozzle cut-out template developed by GRÖMO to mark the hole cut-out (e.g., 333 outlet in accordance with DIN 12056-3). The GRÖMO gutter outlet is inspected in accordance with DIN EN 12056-3. The measurement results for the drainage capacity were determined by the Technical University of Munich in accordance with the specifications of DIN EN 12056-3.
It was confirmed that GRÖMO gutter outlets not only meet the standard, but exceed it. The standard-compliant GRÖMO gutter outlets is thus a byword for certainty in calculations and flawless building work. Then cut out the hole cut-out along the line with a chisel or a shears, and use a hammer or roll former, about 4 mm, to create a bead. Note: Drainage capacity can only be attained and guaranteed by using the cut-out developed by GRÖMO. The added crimping is already accounted for in the template. If everything is ready, the elbow or the pipe is attached at the bottom of the gutter outlet. The innovative spring clip provides firm support. To loosen the connection, just turn the elbow down. For emergency or building site drainage, just turn the elbow away from the house. Even during final installation, nothing has to be wired or riveted anymore. Just turn the elbow in the right direction. It holds in any position.