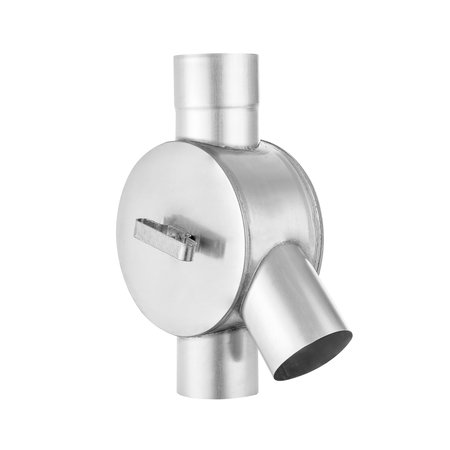 Water distributors
Nominal size
76, 80, 87, 100, 120
Materials

Not available in all sizes
Water distributor from GRÖMO – We've got the hang of this.
Please follow the detour.
If you don't want rainwater to go into just the sewer system, but divert into a pond or cistern, the water distributor from GRÖMO, also called water switch, is the perfect piece. It's simply plugged into the drainpipe, and then the direction of flow for the entire quantity of water can be changed with the easy turn of a handle. By just turning the handle, the flow direction can be set to left or right. If rerouting the water is no longer needed, you can change the direction of flow right back and the rainwater will continue to follow the drainpipe into the sewer system. The water distributor is available in copper as well as zinc or galvanized steel, and is compatible with drainpipes with a diameter of 76, 80, 87, 100, and 120 mm.

It's never too late.
If you're now thinking, we've already got a roof drainage system, but sadly no water distributor. No problem with GRÖMO. Subsequent installation is actually totally uncomplicated and can be done at any time.