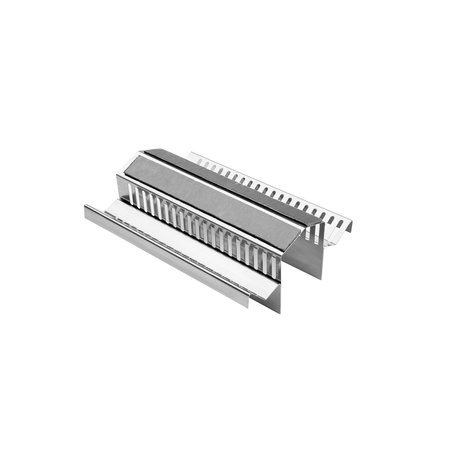 Ventilator ridge unit
Materials

Not available in all sizes
the roof ridge air vent from GRÖMO – Absolutely excellent.
No wood.
Elaborate, expensive, time-intensive wood structures are finally a thing of the past. The GRÖMO rust-free stainless steel roof ridge air vent makes it possible. The sturdy base unit with cover cap is mounted lightning-fast: just place on the prepared panels, and rivet tightly in place. The ridge air vent is nicely in place and can fulfill its purpose.
It's that easy to get it on the roof.
With the GRÖMO roof ridge air vent, it's really easy to save a lot of time. All there is to do is use rivets to fix the load-bearing, 1905 mm mounting device with the vertical vent slot in place on the positioned ends of the panel. Then the tinsmith-made cover cap is put on and likewise secured with rivets.
Important to note: Leave a gap of about 5 mm between the load-bearing mounting devices. This allows unhindered stretching, and lets the full effect form. The cover caps will then overlap by about 90 mm, and stretching can proceed here as well without problems. No rivets should be attached near the overlap, so that the metal sheets can expand and contract freely.

What more could you want?
The roof ridge air vent from GRÖMO scores points in many different aspects. Made from stainless steel, it has an impressively high resistance to corrosion. Thanks to the sophisticated design, not even drifting snow in the winter can impact the functionality. The sturdy, self-supporting structure, with a ventilation cross-section of 200cm²/rm blends into the roof's overall appearance beautifully with its slim, aesthetic ridge formation. The individual material choice allows the cover cap to match the material of the roof.