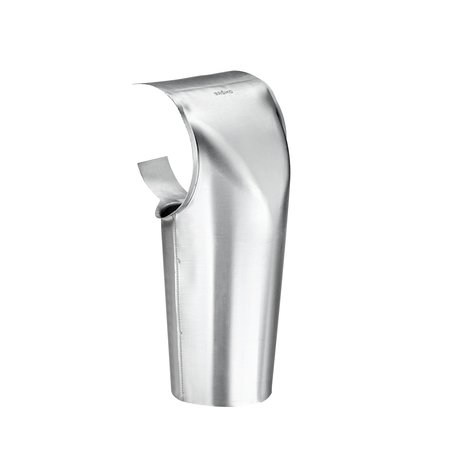 Oberstdorfer outlet - half round gutter
Nominal size
333/139
Materials

Not available in all sizes
the Obersdorfer gutter outlet from GRÖMO – From Allgäu to the world.
Hand in hand with the craft.
The origin of the name is no big surprise when it comes to the Oberstdorfer gutter outlet from GRÖMO. It's the city it comes from. Namely, Oberstdorf in Allgäu. There, a wise tinsmith once came up with this special outlet shape. It was originally adapted for the local conditions and built in on the spot. The advantages of the diagonal gutter outlet are obvious. The angle of inclination in the downpipe diverter is fairly flat, which generates a high drainage capacity. And the modest, appealing appearance is characteristic of this gutter outlet. After the Oberstdorfer gutter outlet was used for the first time, it quickly became known outside the borders of the city.
Due to high demand, the tinsmith went looking for a partner and turned to GRÖMO. This gutter outlet is a wonderful example of how simple the road from idea to finished product can be when everyone works together, hand in hand. It shows beautifully that communication between tinsmiths and GRÖMO worked well even then, and demonstrates the closeness to the craft that GRÖMO fosters.
The diagonal gutter outlet is made from titanium zinc and is designed for half round roof gutters. It has an inclination angle of 72 degrees, and is roll seam welded. The conical outlet conveys even large quantities of water safely and reliably.