GRÖMO ALUSTAR roof drainage
Complete system makes coloured roof drainage system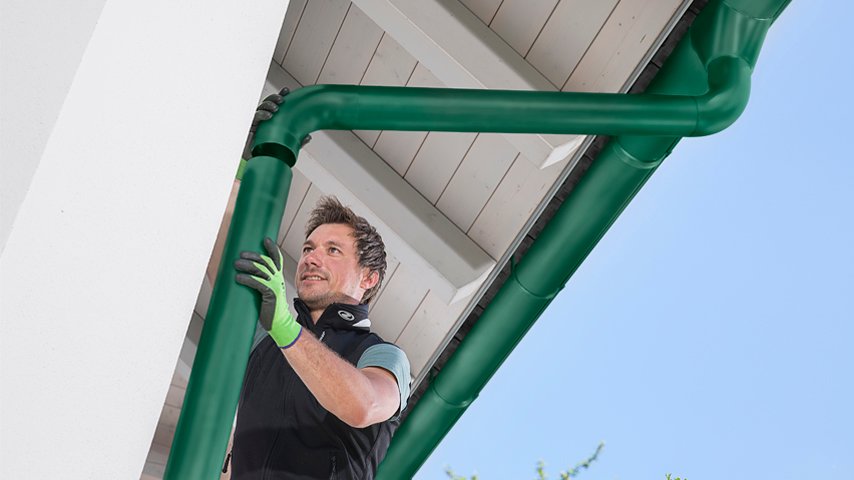 With the new GRÖMO ALUSTAR product line, the roof drainage specialist GRÖMO is once again demonstrating its flair for market requirements. Until now only using bare aluminium, Marktoberdorf is now presenting a complete roof drainage system made of colour-coated aluminium.
From the gutter, through the downpipe, to the accessories, everything comes from a single source, without material deviations or discrepancies in product geometry. To complete the system, GRÖMO also presents a novelty with the DUOFALZ metal coil and cut plates: Due to the coating with a smooth and structured surface in one product, the sheets can be used on both sides and thus ensure maximum processing flexibility.
Whether pitched roof, flat roof, classic, modern or puristic - the GRÖMO ALUSTAR range offers a wide range of options for realising individual wishes and requirements for roof drainage. Its seven colours – anthracite, light grey, white, moss green, brick red, oxide red and Testa di Moro – are matched to all common roof and façade systems and create a harmonious appearance. GRÖMO provides a colour chart free of charge for the right colour combination. In this way, the desired colour can be optimally adapted to other building envelope trades. And for even more individuality, customers can choose from 206 additional colours from the RAL colour space.
"Our shapes and colours allow for countless combinations that offer optimal functional as well as aesthetic solutions," says Manuel Kitzinger, Head of Marketing and Product Management at GRÖMO. "In addition, aluminium is extremely popular due to its product properties in roof drainage. Because it is corrosion-free, easy to form and not half as heavy as alternative metals of the same strength."
With a resistant surface against wind and weather
The majority of the products in the GRÖMO ALUSTAR range are made from bare aluminium alloys and then powder-coated in parts, while gutters and downpipes are made from coil-coated aluminium alloys (coil coating). "Provided with a tough coating, GRÖMO ALUSTAR products have an extremely resistant surface and so defy all wind and weather. They not only meet the highest requirements for UV resistance, but also for growing environmental influences," adds Manuel Kitzinger.
The surfaces of GRÖMO ALUSTAR products are available in two versions: The smooth SX surface has a wide range of colours with good colour retention in all of the colours mentioned. In contrast, the textured TX surface has a matt appearance with high UV colour and weather resistance as well as scratch and abrasion resistance, and is initially available in anthracite, light grey and Testa di Moro.
DUOFALZ metal coil and cut plates enable use on both sides
Both surfaces are combined in one product by the DUOFALZ metal coil and cut plates specially developed for use on roofs and façades. While the front has a 30 μm thick TX coating, the back consists of a 25 μm thick SX coating of the same colour. The carrier material is 0.7 mm thick aluminium.
Alloying, coating and elasticity are optimally matched for use in sheet metal technology and guarantee the best possible processing results. "Because it can be used on both sides, there is a product available to complete the roof drainage system that offers the greatest possible flexibility and a wide range of applications," says Manuel Kitzinger. "And the fact that GRÖMO grants a 40-year warranty on this is only proof of the high quality of DUOFALZ."
Available in three different bandwidths, the advantages of DUOFALZ are obvious: The sheets are light, have fold quality and are also extremely weather-resistant. Due to the double-coated surface, unsuitable undersides are a thing of the past. This is evident, for example, up to now, when looking at the roof, the unsightly underside of the inflow sheet can be avoided with DUOFALZ. The ribbons made from coil-coated aluminium alloys are also available in the seven colours of the GRÖMO ALUSTAR product line.