Website relaunch
GRÖMO starts with a new website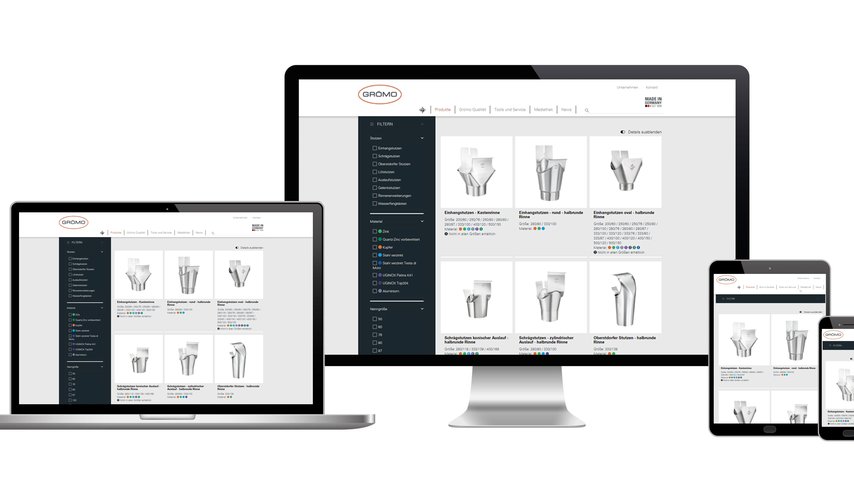 Since the middle of December, GRÖMO has appeared on the World Wide Web with a new website. With their new website at www.groemo.com, the specialist in roof drainage is focusing on the future in terms of appearance, content, and technology.  The site appears modern, open, and fully responsive as well, of course.
Clear structure, neat organization
Right away, the first glimpse of the site shows visitors where the journey is going. The redesigned homepage offers the user all important content at a glance, right from the start. The sub-pages are also clearly organized, making it virtually impossible to "get lost". Multimedia content such as high-resolution videos, three-dimensional views, and extensive picture galleries complete the array of information.
The old GRÖMO homepage offered a wide range of information and current news. The new site is now catching up, and is satisfying with an even wider range of information, optimized user guidance, and open navigation via individual categories. All visitors to the site, whether they be customers, partners, or potential employees, should be able to access all the information they need perfectly.
Adaptable through responsive web design
A central theme of the relaunch was designing the website with "responsive web design". Computer screen, smartphone display, or tablet: the new GRÖMO page automatically adapts to the different requirements for the screen display and resolution. No more tiresome scrolling and zooming in and out to see the content, which makes visiting the site a pleasant experience, even technologically. In addition, technical components like the loading speed of the site, browser compatibility, intelligent user guidance, and user friendliness have all been streamlined.
Quick and easy to the right product
Thanks to the new product filters, users can find the product they're looking for in just a few clicks. Through various filter criteria, such as gutter shape, nominal size, or material, the filter algorithm immediately displays all matching products. And that's not all – the underlying detailed product page provides information on availability, plus the product's technical specs. Videos, direct download links to product brochures, and assembly instructions also illustrate practical application.
The new homepage is starting out in German and English first, with other versions to follow in stages.